After spending the winter bundled up in layers, I am more than ready for some warmer temps. As the sun kicks into high gear and our attention turns from parkas to bikinis, the idea of getting away to the beach becomes more insistent, even if it's just for a long weekend.
Enter Puerto Rico, a three-hour plane ride from Dulles International. Because it's a US territory, no passports are required to visit, which means no standing in line at customs, which means less time waiting in line and more time at the beach.
We arrived at noon and took a taxi to the Hilton Caribe, across the bridge from the popular Condado neighborhood and 15 minutes away from Old San Juan. We picked this hotel because of its calm bay and its close location to Old San Juan. Also, the last time we visited Puerto Rico, we stayed at the beachfront La Concha Resort, and, while beautiful, didn't offer the calm waters of the Hilton. We had a check-in time of 4 p.m., but were accommodate early and were able to drop our bags and head to lunch at the casual Pina Colada Club, where we had—wait for it—Pina Coladas. Ta-da!
Fortified, we headed to the beach. The water was awesome. Clear, warm and calm with a hint of a swell. So much love. We relaxed, did some swimming and then decided that we needed to experience the pool bar, because what says vacation better than sipping on a fruity drink with an umbrella embellishment while wading around in a heated bar/pool?
We had had a lunch late, so we skipped dinner and hung out at the pool until it closed before heading up to our room to relax after a day of travel. Plus—nerd alert—the P&G Gymnastics Championships were coming on at 9 p.m.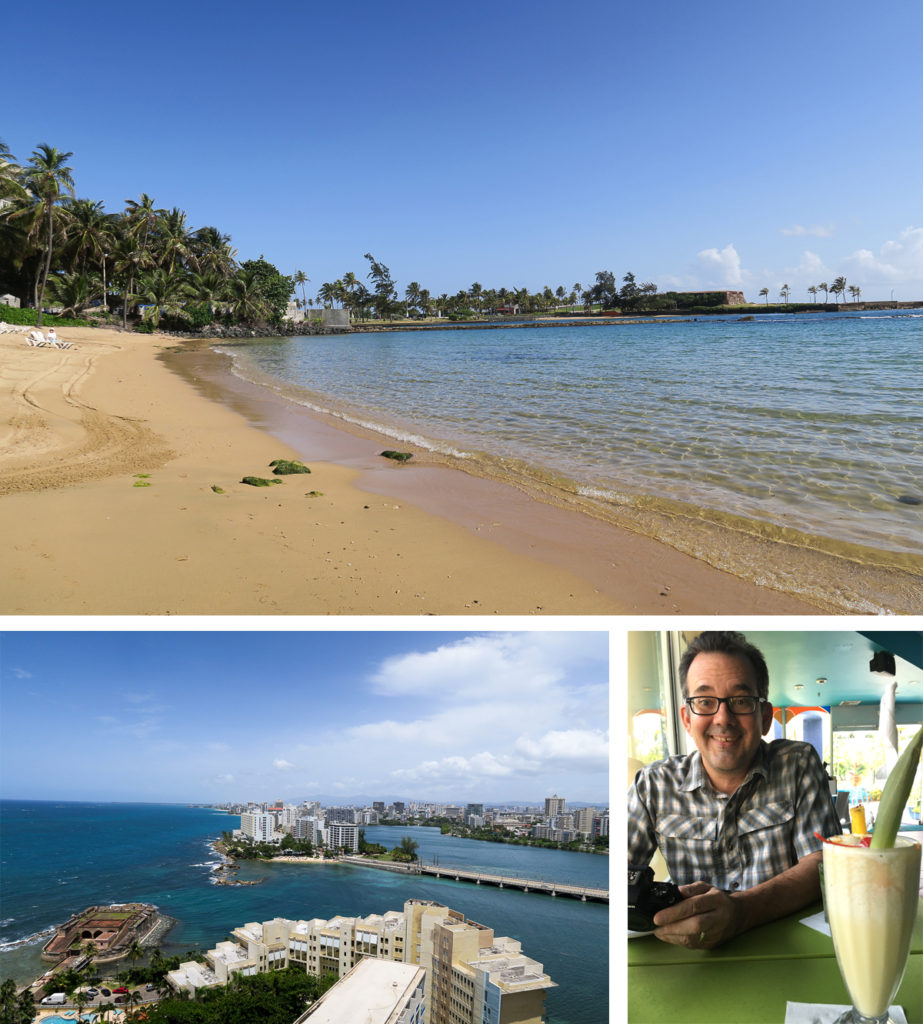 Day 2
The day before, we had the brilliant idea of participating in morning yoga on the beach at 9. It sounded like such a good plan! You know, the thing that makes up a perfect vacation filled with meditative goodness and well-being. But when the alarm went off, the previous night's drinks combined with the all-night music from the party in the lobby kept me in bed. I did wake up at the start of yoga, though, so it wasn't an entirely late morning.
Which was good because we had plans to spend the day in Old San Juan walking around and taking in the sites. The city still maintains some of its original blue cobblestones, which date back to the 16th and 17th centuries, when Puerto Rico belonged to the Spanish. We wandered up and down the streets, admiring the colorful buildings while leisurely making our way to Fort San Felipe del Morro. When it got too hot, we ducked into shops to cool off and look around.
During our last visit, it was HOT. Like seriously hot. This time around, we lucked out with a cloud covering and some cooler weather. Mind you, it was still hot, but not nearly as oppressive as it had been. So when we made our to El Morro, walking up the middle of the battlefield wasn't nearly as punishing as it could be. In fact, dozens of people were out and enjoying the day on the open fields. Kites filled the air, floating along the trade winds, so many that I thought they might get tangle up.
The fort, a Spanish fortification built in 1539 and now run by the National Park Service, took  more than 200 years to complete. Construction on its sister fortification on the other side of Old San Juan, Castillo de San Cristobal, started in 1634 and covered 27 acres when finished in 1790. El Morro overlooks San Juan Bay and has six levels, which are accessible by staircases (some spiral and steep) ramps and tunnels. Walk along the ramparts and duck inside the domed sentry boxes that look across the bay. Head to the lowest level and go inside the tunnel of the Old Tower and you will see a US artillery shell fragment embedded in the wall from the US bombardment of 1898.
So, why so much effort? you may ask. Puerto Rico sits at a strategic point between the Americas and Europe. And when ships were coming over from Europe, PR was the first large island with food, supplies and fresh water that sailors encountered. Whoever controlled this Caribbean gateway also had an advantage when it came to controlling those lands that lay beyond.
Following his discovery of the New World in 1492, Christopher Columbus convinced Ferdinand and Isabella of Spain to finance a second voyage. It was during this voyage that Columbus discovered Puerto Rico in 1493. Puerto Rico soon became a Spanish colony. But its import wasn't lost on the rest of Europe and this led to repeated attacks by the British, the Dutch, the French and the English. The forts did their job protecting against the incursions. Until the Spanish-American War in 1898 when Spain ceded Puerto Rico to the United States.
Today, both forts receive a ton of visitors. If you plan on visiting Old San Juan, be sure to leave plenty of time to check them out. Honestly, though, you'll have to pick which fort you want to see during your day trip, because fitting them both in along with a tour of the city might be too much. It was for us. On our first trip, we went to Castillo de San Cristobal and it was during this most recent trip that we visited El Morro.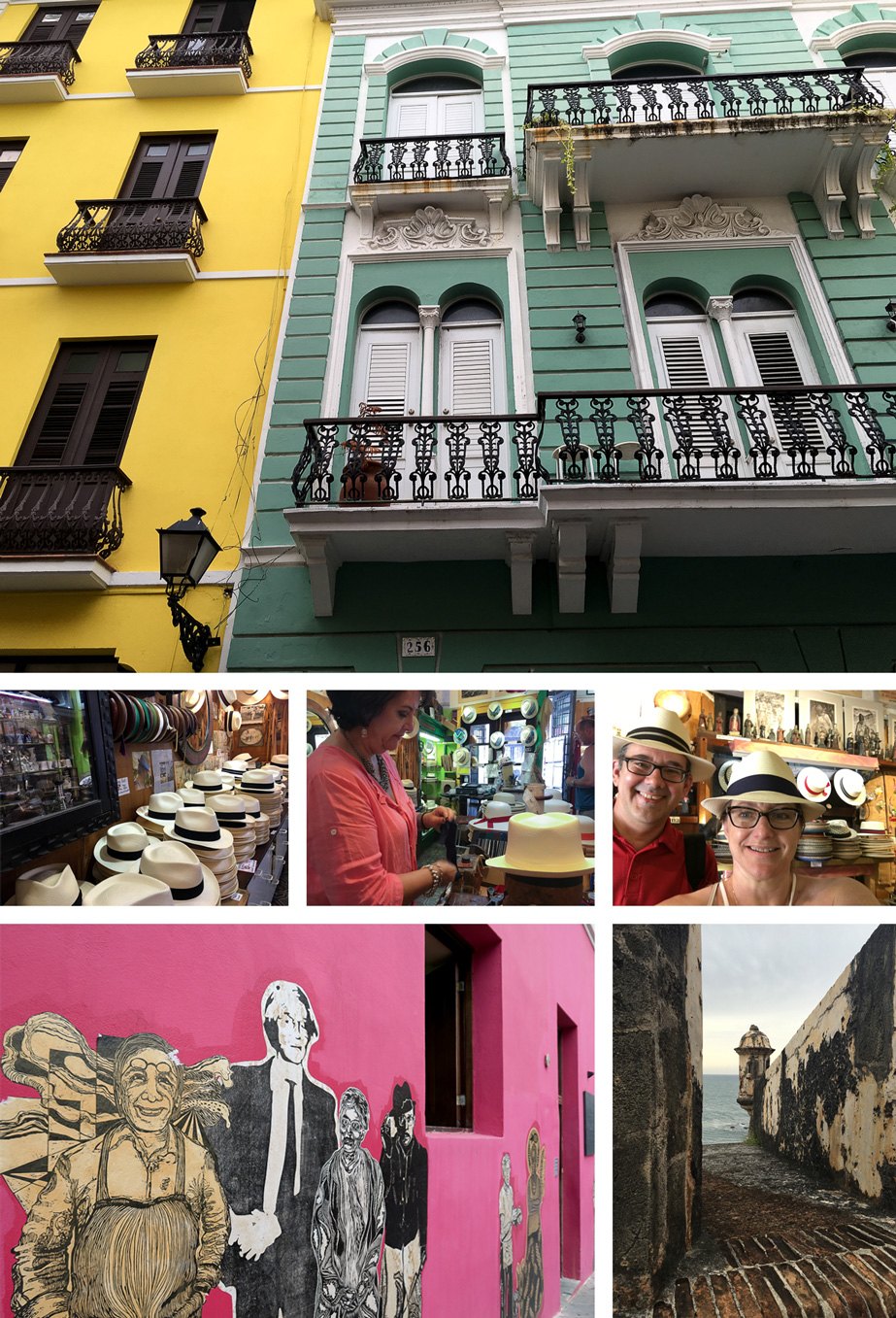 Day 3
We were up early—6:45—to head to El Yunque rainforest for a short guided hike followed by lunch and a trip to Loquillo Beach. Our guide, Carlos, was a full of information, explaining Puerto Rico's history in 15 minutes as we made the 40-minute drive from San Juan.
El Yunque was declared a crown reserve by the Spanish in 1876. Under the National Park Service, the forest was expanded from its original 14,000 acres to 27,000 acres. In 1989, Hurricane Hugo stripped the forest of its leaves and caused severe damage to trails and roads. Recovery efforts took 10 months.
Our first stop was the Yokahu Observation Tower, a 98-step observation tower with a 360-degree view of the forest canopy built in the 1930's by the Civilian Conservation Corps. Carlos pointed to the bay between two peninsulas, saying that this is the location of the popular bioluminescent bay, which emits a glow when the water is disturbed. The plankton in the water, he said, contain a microorganism that gives off light when agitated. Fish can be seen swimming because their movement is constantly disturbing the water. This was another activity that we couldn't fit in for this trip. But it's definitely going to be part of the plan next time around!
As we hiked (walked, really) through the rain forest, Carlos talked about the forest's diversity, pointing out a variety of ferns, passing around a husk from a palm tree for us to feel (smooth and sturdy, almost like rubber) and giving us a quick overview of its 240 species. Take the Coqui tree frog. At under just an inch in length, this is a frog that doesn't frog in the traditional sense. Meaning, it will drown in water. Instead, it lays its eggs inside epiphytic bromeliads, a flowering plant that attaches itself to trees and absorbs its nutrients and moisture from the air.
We stopped at La Coca Falls, which requires zero hiking as it's right along the road. (There's even parking lot designated for the falls.) The falls were named after the lady who owned a 500-acre coffee plantation that she donated to the Park Service. The 75-foot falls themselves are close to the road and slide down a flat rock face. Because it hadn't been raining, tourists were scrambling over rocks to get their selfies and photos. Fine for a dry day, but not recommended when it's raining.
Before heading down to the beach, we treated ourselves to lunch at La Muralla, a roadside restaurant with plastic tables, a grocery cart full of coconuts and an attached market with souvenirs and colorful hammocks hanging from the wooden patio cover. Against the wall were Puerto Rico beach towels for sale in blacks and bright blues and reds along with milk crates filled with shoes for sale. John had the kabobs and plantains and I had the crab tacos, yellow rice and beans. As we ate, we watched a man take his coconut-filled meal into his car, chow down, get out and return the empty shell. (Or dispose of it since he probably doesn't have a need or room in his suitcase for a coconut husk.)
Then we were off to the beach. Just like all public beaches, this one had a long line of cars waiting to get in. We finally got in and, because we were part of a tour, we were allowed to park close to the boardwalk. We all climbed out of the van and were given two hours until we had to meet to head back to San Juan. First up was changing. We found the bath house along the boardwalk and had to pay $1 to use the facilities, which had lockers, showers, changing rooms and toilets. We were given an orange band so we come and go as we pleased. Then we joined a long queue to get a beach umbrella. A schoolteacher took over and started herding all the cats, including the vendors who just couldn't handle all the business. We thought about getting a beach chair, but that was just pushing our luck. The umbrella and our towels would be enough. Plus, we were only going to be there for the next hour and a half. John, kind and patient and earning bonus points, waited for the umbrella while I put a towel down next to our travel mates and made for hasty, sole-of-the-foot burning run to the clear blue water.
Sweet bliss. The water was refreshing and the view of the palm trees and beach amazing. With the exception of the all the bobbing heads in the water. It was packed, but the setting was still beautiful. I floated my way around families and couples and enjoyed the view. John finally was able to join me and we hung out for a bit before heading back to our towels for some reading.
We got back to the hotel by 3:30 and were back on the beach by 4 for some snorkeling. Our little bay was lovely and I did see some did see some fish here and there. The snorkeling would be far better at an actual destination spot such as Vieques or Culebra. We tried to set up a day trip, but both island excursions were booked. Lesson? Book before you fly. Especially if you're only visiting for a long weekend. Back to our little bay of sunshine. After another two hours, we went back to the room and got ready for dinner at Lemongrass, a tapas restaurant that's set inside the hotel's tropical gardens and bird sanctuary. (Just a note about restaurants. If you're looking to splurge, then definitely head to Marmalade in Old San Juan. You won't be disappointed!)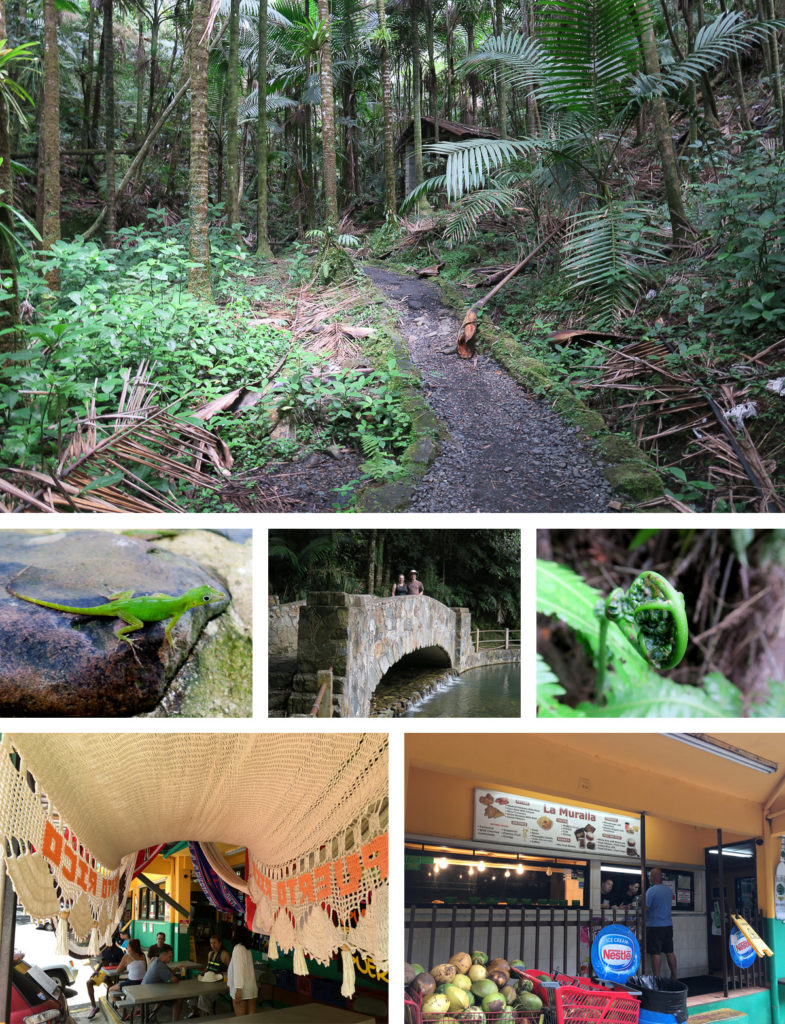 Day 4
Sigh. The last few hours before heading home. So we got up early (Or I did, since John tends to wake up at 6.) We were at the beach by 9 and I spent two hours mostly in the water. We snorkeled without the snorkel, which was a good lesson in how to turn your head to breath while calmly floating along. More swimming would help that.
Then it was over and before we knew it, we were taking off and flying away from PR. The delayed flight on the second leg of our journey was made palpable by a leisurely dinner with live music at Whisky River followed by a viewing of the "Game of Thrones" finale. (We were the couple sitting next to an outlet, sharing earbuds and watching the finale on John's phone. We were serious about seeing it, small screen aside!
I'm sure our future holds another trip to Puerto Rico. There's so much to do that you can't possibly fit it all in on a short visit. That's one of the island's charms. You can go back again and again and discover something new each time.